Top 10 Coffee and Tea Shops in New York City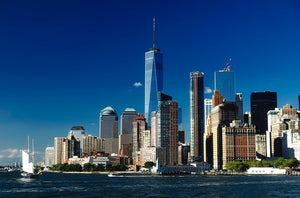 There are few pleasures as soul-enriching as sipping cardamom chai or freshly brewed espresso in one of New York City's atmospheric eateries. Cafe culture goes far beyond Manhattan or the hipster haven of Brooklyn, but those boroughs have some of the greatest shops where you can drink some brew and breathe in the unique character of New York. If you're in an exploratory mood, hop on the subway and sip on Nature's Guru Coconut Water as you stroll the neighborhood.
1. Toby's Estate
At Toby's, brewing coffee is a discipline. It's taught at the shop's brew schools in the West Village and Brooklyn, where you can learn the fine art of drawing a hot beverage from a humble bean. If you want to simply sit and feel the coffee culture, scan the cafe's sparse shelves for some oddities, like old books or antique cans of cocoa.
2. Devocion
The heavy leather couch and well-spaced wooden tables make Devocion feel like a place to settle in with good friends or even your own thoughts. You can gaze at the skylight while nibbling a croissant and enjoying the exclusively small-farmed Colombian coffee. If you're hooked, you can even travel to Bogota to enjoy the cafe's original location.
3. Bombay Sandwich Co.
Perfect if you're feeling peckish and want a vegetarian meal to go with your masala chai or cardamom coffee, Bombay Sandwich Co. promises a "proper" brewed milk tea. Come here for something sweet, delicious and authentic.
4. Thelewala
A tiny hole in the wall with a cheap menu to match, Thelewala makes spicy chai, with cardamom, ginger and peppercorns. You can indulge in the milky sweetness while satisfying your hunger with a selection of Indian snacks.
5. Little Skips
Come for the art, stay for the Dirty Chai -- chai tea mixed with a double shot of espresso. Little Skips can make your trip to Bushwick a funky one, and if you're so inclined, they'll even make your sandwich gluten-free.
6. Mariebelle
Mariebelle sells chocolate, but its cocoa bar offers much more refined fare than the powdered milk drink you enjoyed as a child. Aztec hot chocolate, lychee tea and light food are served in an old-world, antique atmosphere. You may feel compelled to leave your jeans behind and dress up for the occasion.
7. Milk and Roses
Few eateries can juggle the buzzed evening crowd with the studious intellectuals that roam around during daylight hours. But Milk and Roses succeeds, offering a book-lined coffee shop area where quiet time is spent with the written word and, on occasion, you can hear poetry readings. Later there's cocktails and wine to cap off that perfect NYC evening.
8. Ninth Street Espresso
If you're new to New York, you can feel a bit like a local by visiting this hometown chain. Expect a full range of artisan coffee drinks and indulgent pastries to satisfy your sweet tooth. Remember to brown bag some beans to relive the experience at home.
9. Sweetleaf
Watching "Friends" made many of us wonder why we didn't invest in a foosball game instead of a kitchen table. Sweetleaf pays homage to this classic game by placing it in its Williamsburg location. You can choose from a wide range of coffee drinks, including Rocket Fuel with chicory and maple syrup, perfect to sip on between matches.
10. Culture Espresso
Come for the cookies, stay for the chandelier. The shop's original location on West 38th features plenty of space to sit under the light fixture and enjoy a freshly baked chocolate chip or cranberry oatmeal cookie. If you're tight for time, get your latte and pre-order the cookie to go.
Sources:
https://www.timeout.com/newyork/restaurants/best-coffee-shops-in-new-york
http://untappedcities.com/2013/12/04/top-10-coffee-shops-in-brooklyn-for-design-buffs/
http://ny.eater.com/maps/best-cafe-coffee-shop-new-york-city-brooklyn-queens
http://www.fodors.com/world/north-america/usa/new-york/new-york-city/experiences/news/brooklyns-best-coffee-shops-11471
http://drinks.seriouseats.com/2014/01/best-masala-chai-new-york-queens-manhattan-brooklyn-authentic-indian-chai.html
https://foursquare.com/top-places/new-york-city/best-places-cardamom
Leave a comment
Comments will be approved before showing up.