How-to Get the Perfect Chai Latte at Home (Better Than Starbucks)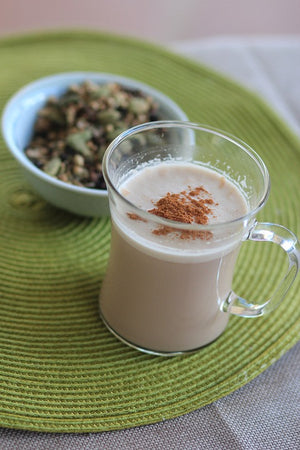 Chai lattes have to be one of our favorite drinks. Spicy, sweet, and warm, it's the perfect treat to enjoy on a midday work break, Sunday mornings, or when you're seeking a moment of tranquility. The perfect cup of chai ignites a spectral sensory experience, and can be customized with ancient spices such as turmeric, ginger and cardamom to achieve the perfect blend. 
Drinking chai at home is a different experience. There's no drive through, traffic, or noisy cafe. Enjoying at home allows us a pause for a moment of relaxation. In the morning before your kids wake up, before you head out to work, it's a brief passage to get away from the hustle and bustle of life. However, many people attempt to recreate this classic drink at home but end up disappointed when it doesn't taste like their coffee shop makes it. Maybe they don't have the magic touch a barista does? Not quite. We'll teach you how to recreate the perfect chai latte that's healthier, cheaper and that can be enjoyed from home. 
How do the barista's do it?
Many barista's use unfriendly chai concentrate in their drinks. Unbenounced to many, it's a packaged product that looks more similar to a carton of milk than tea. It's preconstructed, and blended with milk. Chai concentrate is not real chai. Many consumers think they're drinking the real thing, but are unknowingly being duped by the trustworthy ambiance of a coffee shop. Real chai contains real tea, not additives. 
To achieve a real chai, with the same convenience of a cafe, and without the additives, cost and calories, look to instant chai as a better option. 
Can I trust instant chai? 
Yes, if you do your research. Instant chai can be the magical solution to getting your chai fix at a lower cost and less calories, but you need to be aware of the product you're buying. Some instant chai contain hidden ingredients or added sugar, such as vegetable oil, artificial flavors or additives (Soybean Lecithin, Beta-Carotene, and Maltodextrin). Those ingredients have no place in chai lattes. 
Where can I find trustworthy Instant Chai?
Look for instant chai's with few ingredients (5 or less). For example, unsweetened Nature's Guru Cardamom chai has three, while the sweetened Masala Spice Chai also has three. You shouldn't have to compromise your health for a great chai. 
How do I make my Instant Chai?
Instant Chai allows chai-lovers to enjoy the drink anywhere, any time. Simply pour 6-8 oz of hot water to the mix, stir and enjoy. Top off your chai with cinnamon, or for an added creaminess, sweeten with a french vanilla creamer.
Have you tried Instant Chai? We'd love to hear your thoughts in the comments. 
#starbucks #chailatte #barista #instantchai #foodie #foodblogger #teatime #chaidrinker
Leave a comment
Comments will be approved before showing up.